UPS Network Management System "UNMS"
What is the difference between monitoring software and the UNMS management system?
Monitoring and management: These two terms are constantly mixed up because, at first glance, they have a lot of similarities. The difference is in the details:
Monitoring
Such a system can be used to improve the transparency of the available data. They are limited in providing information. Administrative functions must be done by responsible staff.
The UNMS 2 is a fully-featured network management system
The UPS Network Management System UNMS can actively manage monitored uninterruptible power supply systems and a wide range of system-related and external components and, if needed, execute automatic actions that are reserved for specialists when using pure monitoring systems.
The UNMS can do more than just "display and report"
Of course, an efficiency monitoring system is included in the UNMS and can be opened via a conventional web browser: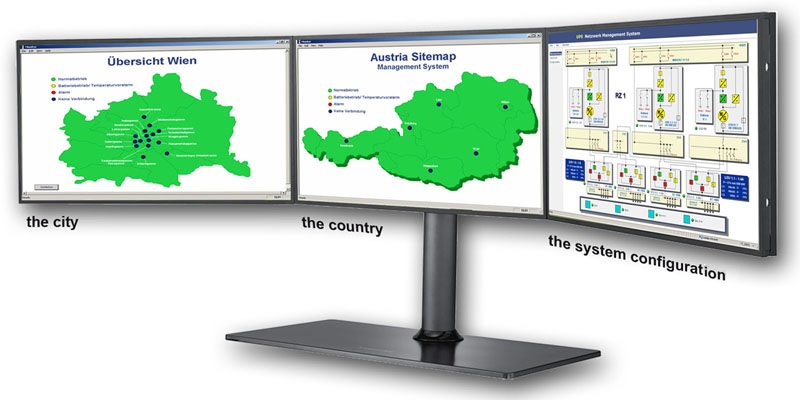 A fully-automatable system management system runs in the background:
Example 1: Burglary protection
As an example, the UNMS can register unauthorized access via motion detectors and, in response, lock electrical door locks, activate an on-site camera system and simultaneously notify relevant security personnel of the situation via an audio-visual signal.
Example 2: Gas accumulation
The UNMS can also detect a battery problem with an accumulation of hydrogen in a battery room via the BACS system and external sensors. In response, charging currents can be capped, emergency ventilation systems can be activated and, simultaneously, audio-visual alarms can be activated to warn on-site staff not to enter.
Example 3: Power failure
With the help of the RCCMD software client, the UNMS 2 can manage any number of computer centers and, in the event of a power failure, automatically initiate the necessary steps to
... migrate systems

… prepare for shutdown

… automatically start up emergency systems

… initiate emergency measures and inform specialists
The UNMS 2 is a fully-featured management system that is used above or parallel to other systems and can be transparently integrated into any infrastructure.