Remote Control Command - Emergency Shutdown without a compromise
Modern IT infrastructures are difficult concepts to understand because the boundary between physical devices, so-called hosts, and virtual machines is becoming increasingly blurry.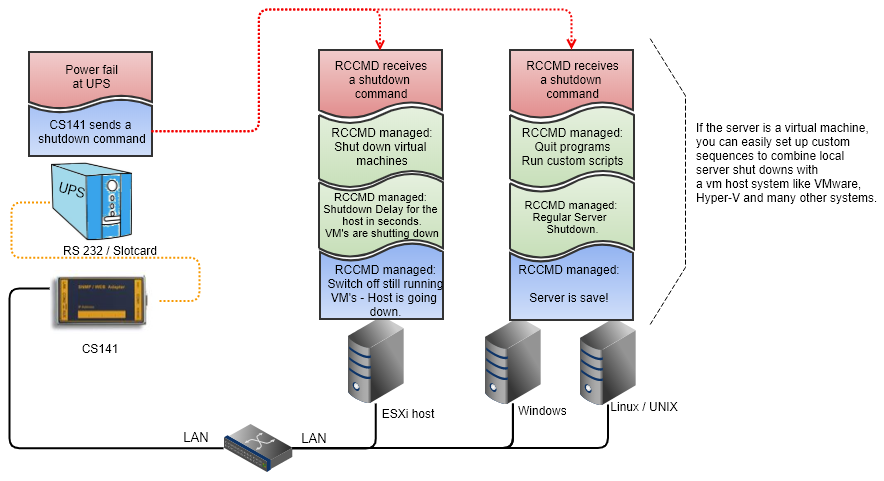 A shutdown solution therefore faces the following problem:
It has to differentiate between a real server and a virtual machine whose contents behave like real servers within the IT infrastructure and must be capable of taking the inevitable dependencies into account.
RCCMD is the most popular system solution in the world for this complex problem
RCCMD (Remote Control Command) is used all over the world, wherever a flexible software solution is required for an emergency shutdown. RCCMD runs independently of the platform and can connect physical machines with fully virtualized environments to ensure a structured shutdown.
RCCMD can be flexibly adapted to nearly any scenario if, for instance:
Expandability and platform-independent flexibility are required

Special shutdown routines are necessary on the micromanagement level

Highly networked systems have to migrate to other computer centers

Customized script solutions in heterogeneous systems are required

Mutual dependencies require precise time management
RCCMD starts individual scripts for you, can forward control commands and information to other RCCMD clients, send feedback, shutdown systems, trigger migrations, control and stop server processes, detect redundancies, start tools and transfer parameters and much more ....
Secure and transparent
The RCCMD software client is a system solution which runs transparently in the background after installation and only activates if a valid transmitter sends a personalized control signal.
Valid transmitters include:
UPSMan software
The network management software, UNMS II
A CS141-based unit or a licensed GENEREX product
Another RCCMD client